The ten days we were in Sweden have gone by as fast as a galloping elk, but they've left an equally big impression. Looking back, we both liked Göteborg better than Stockholm, despite many warnings beforehand that it would be the other way around. Göteborg is smaller, therefore more accessible; and all the students make it merrier, more youthful, but also less touristy than Stockholm. Of course we may have been under influence of better weather in Göteborg, and we haven't visited any of its darker parts that travelpedia warns about.
As always, fragments of memories remain:
The way the Swedish tour guide in the Stockholm Stadshus pronounced the word Maelaren (a lake outside Stockholm): a dry and short but emphasized ae sound, a thickish l, a very short but still audible a (not uh), followed by the most beautiful r, rolling, round, guttural… The Swedish language overall was a two-faced experience for us: unable to make out anything anyone said to us other than 'hej' and 'tack', we did recognize many written words, often more from Dutch or German than from English.
The Stockholm Stadshus (city hall) is another recommendation by the way. You must join the guided tour to visit it–something we don't usually care for–but it wasn't dreary at all. You get to see all the highlights with to-the-point commentary in about 45 minutes. Choose the woman guide if you have a choice, for Maelaren pronounciation bonus points.
The smell of fish (mussels even, in the entire Stockholm city museum; good thing we weren't hungry) and dill (particularly on a small but colorful street market in the Katarina Bangata). Dill seems to be everywhere and on everything in Sweden. Sort of a national herb.
The rabarber och hallon paj (rhubarb and raspberry pie) in the Espresso House, accompanied by a capuccino. Forget Starbucks; when is Espresso House coming to Holland?
The wild, haunted and/or icy look in the steel blue eyes of so many Swedes (not that many did look directly at me–but that may have been me). Many Swedes have beautiful, expressive faces and dress very fashionably. (An observation by M., of course).
The smell of old boats (oil, wood, sea water) on the ships in the Maritiman museum in Göteborg. If you only have time for one museum in Göteborg, go to the Maritiman.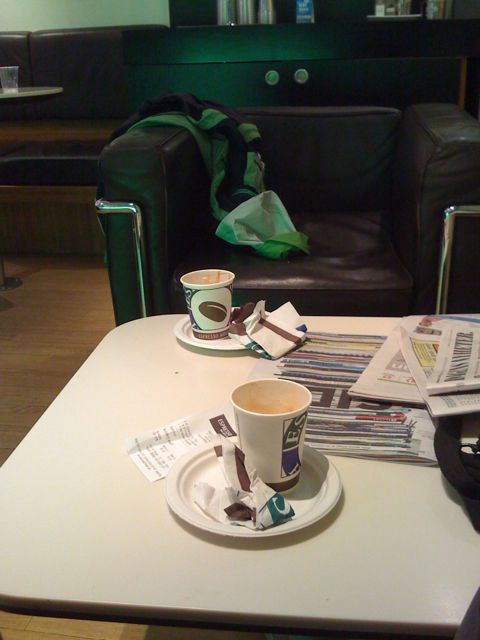 2008-09-15. One response.